+16
starfox42
FL@T-E@RTH
LazyDiamond
thesilentone
Skywalker
TheAlchemist
vortexkitten
damnice
Beashambassador
Admin
Themis
csp
Banazir
mitch
George Tirebiter
Thinkforyourself
20 posters
Page 3 of 3 •
1, 2, 3
Nice catch, they have been caught using the same fake clouds so many times it's ridiculous anyone still believes a word from NASA: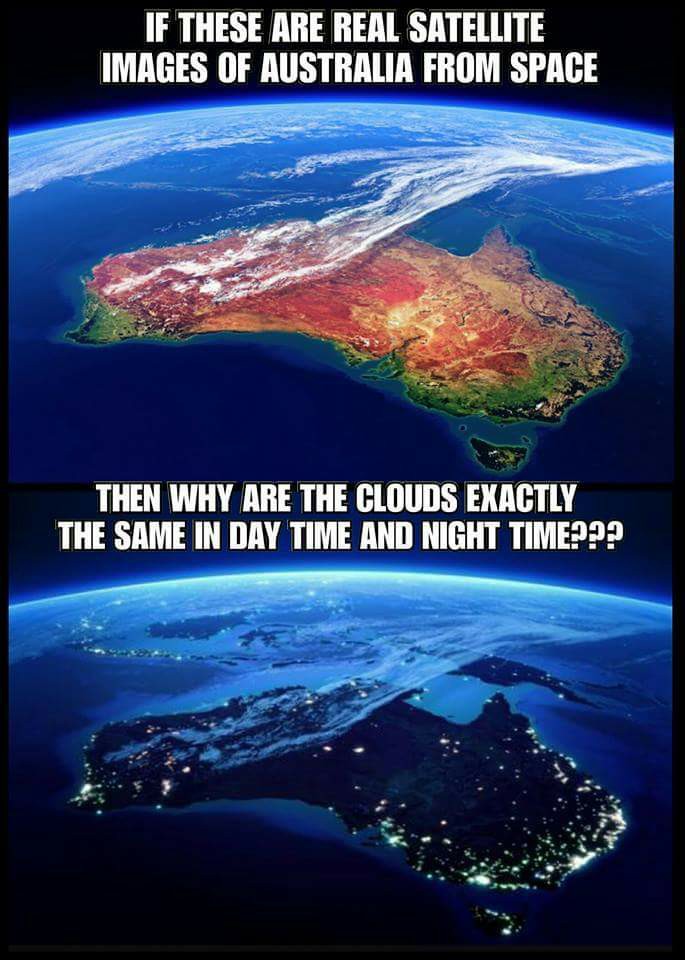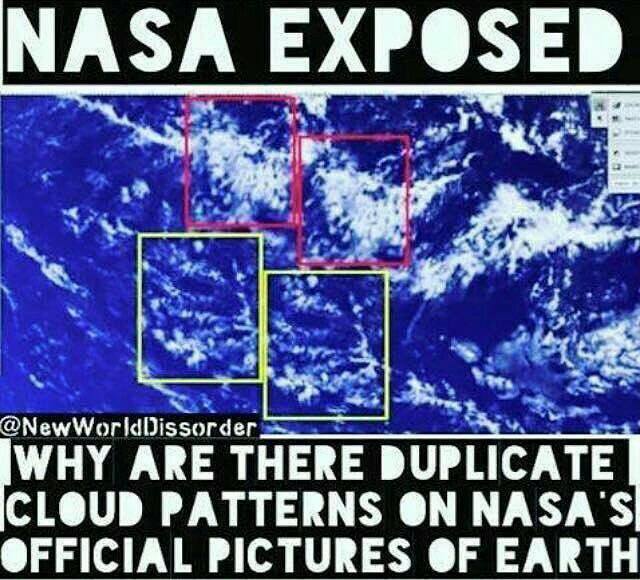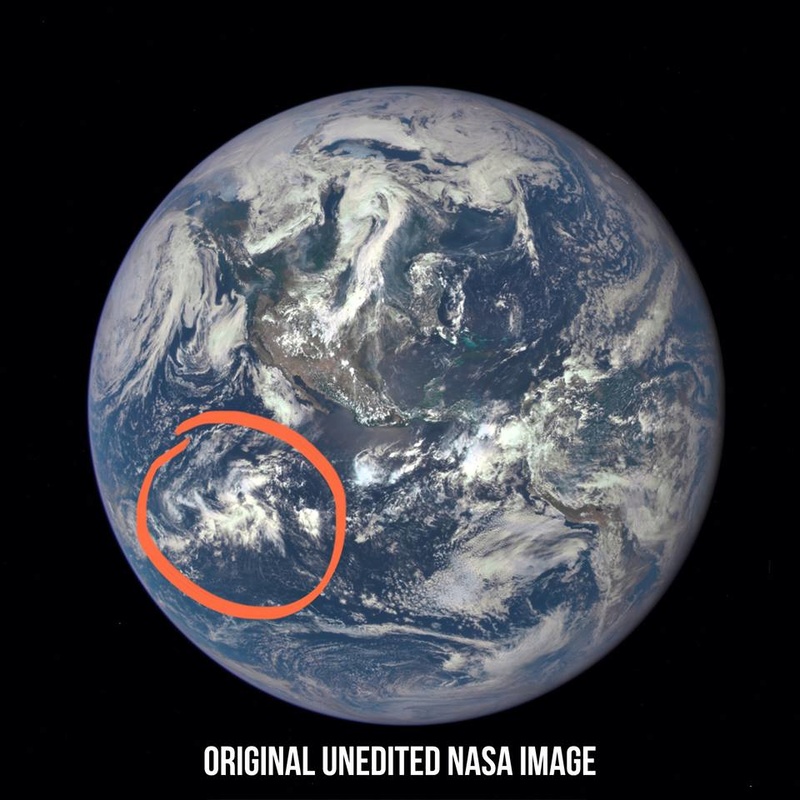 Last edited by Admin on Sat Dec 09, 2017 9:45 am; edited 1 time in total
A facebook user commented on my post and revealed that this supposed "live feed" is actually from 2015!! Here is the link she provided; https://youtu.be/fyvE_B9RxgQ

See the exact same facking clouds in that video as the "live feed." And SOOO many of us are still letting them steal our money and just la-de-da'ing through life like this shit is real. Wish I knew how to not pay taxes and get away with it.

starfox42




Posts

: 55


Points

: 2356


Reputation

: 59


Join date

: 2017-07-28


Age

: 33


Location

: United States



Re: How to not pay taxes and get away with it


Always an endless fountain of knowledge, Eric, thank you again

starfox42




Posts

: 55


Points

: 2356


Reputation

: 59


Join date

: 2017-07-28


Age

: 33


Location

: United States



It's important to note in this video https://www.youtube.com/watch?v=-gNu85JXX2w it's an official ESA video they use the blue gridded screen, but alot of channels are still spreading they've been 'caught using green screen' in the background etc and mnhave never used it. This is an ESA video where they use it. So you know.

exo




Posts

: 10


Points

: 2400


Reputation

: 4


Join date

: 2017-03-13



Evidence of this fakery is readily available for anyone who actually bothers to look – the powers to be don't even remotely try to hide it. I Realised about three years ago that we have been lied to about pretty much everything for pretty much ever. The lies we have and continue to be told by all forms of media, authenticated by all levels of Government, military, police, emergency , medical services and religious leaders to name but a few, extend into every aspect of our lives from History, Wars, Weather Control, Health and False Flag agendas etc. Regarding our" home" - NASA and also the International Space/Fake station – from tales of Moon Landings near 48 years ago we are also told that there is a large aluminum structure which goes round Earth at an orbit of 240 ish miles from here at a speed of 17,150 MPH or 5 mile per second. The fastest production rifle bullet was the Swift 220, muzzle velocity over 4000 ft/s or 2700 mph. The fastest commercial aircraft in the world was Concorde at 1350 MPH and military was Blackbird at 2300 MPH. The X 15 U.S. military claimed 4500 MPH but was flown on at least one occasion on behalf of NASA by a Neil Armstrong, the guy who played a round of golf on the moon so, not much credibility in the speed claim there and like the moon landing, this claim wasn't improved upon in the last 50 years. We are supposed to believe that this tin can travels 6.5 times faster than the fastest bullet and 7.5 times faster than the world's fastest aircraft – yet it has the aerodynamics of a brick and with little or no means of propulsion whatsoever. Claims have been made that one or two people on earth with a telescope have managed to see/photograph this - right. "Images" of earth taken with "Space Walks" background from the "station", show a stationery image and at the claimed speed, Earth would be a blur from the station and if the Astro -nots popped their head out the door it would be promptly taken off. They send up the imaginary shuttle to take the food and games to the station and we are told that after reaching "escape velocity" it then chases after the space station at 17,150 mph to catch it and magically docks whilst maintaining that speed. I tried finding out some obvious facts like how much fuel the internal fuel tanks on the shuttlecraft itself hold as it dumps the external "boosters "and finally the "external tank", but there is no mention anywhere on the NASA site other one cartoonish schematic where it shows two or three "propellant tanks for orbital maneuvering engines", located above the rear "nozzles", each the size of large propane bottles. There are no other fuel tanks anywhere on this "aircraft". They claim in the link below that it consumes 12000 gallons of fuel every 25 seconds i.e reference to swimming pool capacity. The world's fastest missile, the Brahmos, can only reach speeds of 2300 MPH and is a dart like aerodynamic and sleek yet somehow this flying brick with two rockets and a humungous tank strapped on carrying half a million gallons of fuel and weighing 2,200 ton i.e. more than the combined weight of 7 fully loaded Boeing 747 aircraft, manages to reach a speed of 17150 miles per hour and all in a vertical climb - completely impossible, oh and the shuttlecraft is held on to this zeppelin sized tank at the front end with one front shear bolt only.. Where the hell does it get the fuel to then chase after the space station at 17150 MPH and with what means of propulsion does it achieve this feat after dumping the tank – no one questions this.
No real photos of earth from this tin can – really if earth was a ball, we should be able to see upside down aircraft and buildings in Australia from 240 miles out given the Earth is apparently only 25000 miles in circumference and nearly 8000 miles in diameter at the equator – the imaginary line running round the "poles". Now we should be able to have gotten some real good photographs of the earth from the other structure consisting of what looks like two baked bean cans but apparently the size of a school bus, tied together with aluminum foil, purportedly also flying round us for the past 25 years at an altitude of 340 miles at 17000 miles per hour, slightly less than the station and otherwise known as the Hubble telescope – but no, despite the fact that apparently this entity performs not as a telescope per say but as a camera with the equivalent of a 16 Megapixel with 540 X magnification. Look at images of the moon taken from a Nikon P 900 with only a 83 X magnification – what images we should have been able to get from this Hubble Bubble, did it actually exist. No one has questioned how the space station was actually constructed. Chris Hadfield the Canadian fraudster tells on one video that although there are tons of space debris out there they have never been hit and that they are in fact planning to bring up an inflatable section to extend the station in the future – this will be interesting to see how they would inflate it as space is apparently a vacuum. No one has also ever questioned what these individuals actually do there and what scientific research has been conducted over the past 17 years. Instead we only see them on the entertainment channels like Ellen and Oprah, playing games and goofing around, or on the large screen in assembly halls of Elementary schools propagating the hoax to the next generation. They used to play the time delay gap game on transmission for effect but have given up on this and Hadfield actually plays guitar and sings from the can, in time with Bare Naked Ladies in the first ever space to earth "concert" – They just don't care anymore about even trying to be credible because none questions.  















Iochd




Posts

: 4


Points

: 2114


Reputation

: 3


Join date

: 2017-12-20



https://amp.cnn.com/cnn/2019/01/27/us/space-shuttle-challenger-anniversary-scobee-profile/index.html

33 years after the supposed Challenger disaster, the son of one the alleged mission commander , Dick Scobee, decided it was time to reflect on his fathers death, and the globalist media agreed...

33 years later... Why 33? Most people would never think twice about the completely random number but those who know freemasonry this makes sense. This article is from January 2019 but I didn't see anyone mentioning the significance of it. Just thought I would share it.

Freepressfreepeople




Posts

: 16


Points

: 1544


Reputation

: 2


Join date

: 2019-07-20



Freepressfreepeople wrote:33 years later... Why 33?
Same reason the Sun's mass is "about 330,000 times that of Earth" (Wikipedia).
About the Challenger disaster, never mind that there's evidence of the crew literally alive and well today, it's just an elaborate Photoshop prank...

Dual1ty




Posts

: 61


Points

: 1933


Reputation

: 30


Join date

: 2018-09-07



Page 3 of 3 •
1, 2, 3
Similar topics
---
Permissions in this forum:
You
cannot
reply to topics in this forum