Last edited by Admin on Mon Jan 15, 2018 8:17 am; edited 1 time in total
DigitArier likes this post
Thanks for this compilation. Most of my friends are German, I was hoping to find something like this.
While searching YouTube for German flat earth material myself, I found this link to a show called "terra x lesch & co", a show that runs on ZDF, one of Germany's largest mainstram public broadcasters. One episode deals with the flat earth. This is the moderator Harald Lesch describing what the interior angles of a triangle would look like on a ball.
You can NOT make this shit up. I had to laugh fairly hard.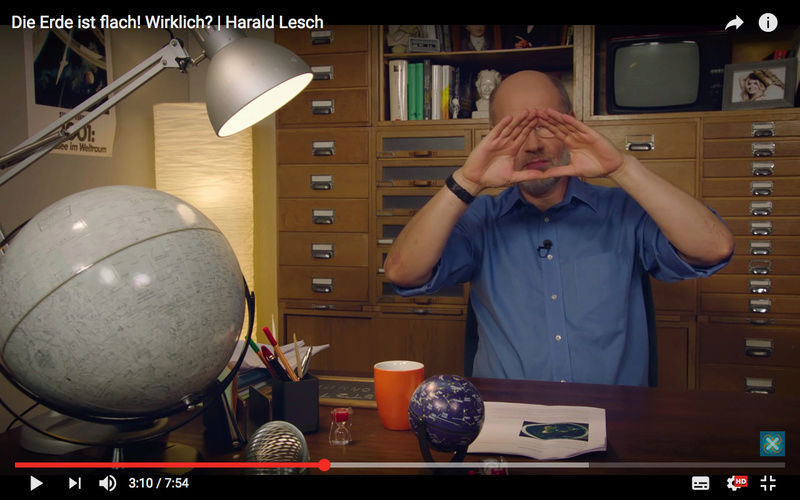 eazierider




Posts

: 4


Points

: 2326


Reputation

: 2


Join date

: 2017-05-21



Hello FE's,

die Leute von der Anti-Zensur-Koalition (AZK) (www.anti-zensur.info) in der Schweiz haben vor einiger Zeit eine großartige Doku über die flache Erde erstellt. Vier Stunden Fakten. Absolut empfehlenswert.

The guys from Anti-Censorship-Coalition (AZK) (en.anti-zensur.info) based in Switzerland have released a great documentary about flat earth a while ago. Four hours facts. Highly recommended.

Was, wenn sie doch flach ist? (What, if she's flat after all?)

https://www.kla.tv/11705

Enjoy!
John Rain

John Rain




Posts

: 2


Points

: 1607


Reputation

: 0


Join date

: 2019-05-04


Location

: Australia



DigitArier likes this post
Sehr schöne Sammlung, leider mittlerweile etliche Videos gelöscht, weil der Kanal dicht gemacht wurde oder auf privat gestellt werden mussten. Mal sehen, ob ich demnächst auch noch was beitragen kann...bin gerade unterwegs und habe spontan mal hier in der Suche "german" eingegeben
Edit:
Hier eine schöne Playlist:
https://www.youtube.com/playlist?list=PL-ohq2sJbObmwSKM2xlwqDnnr06xUENLf

DigitArier




Posts

: 1


Points

: 441


Reputation

: 0


Join date

: 2022-07-10



Similar topics
---
Permissions in this forum:
You
cannot
reply to topics in this forum